En smart og effektiv 3D-Printer
til de store utskriftene
Arbeidsområdet er på 265x265x300 mm noe som er tilstrekkelig til å skrive ut  store modeller på en gang
Zortrax M300 Dual – Industrial 3D printing quality on your desktop
Are you a professional and have high demands on quality and performance of your 3D printer? Then the Zortrax M300 Dual is perfect for you. Experience industrial 3D printing quality at a fair price – and on your desk. 3D print two materials thanks to the extruder with double hot-end and two separate nozzles.
Key features – Zortrax M300 Dual:
3D print without raft – Use water-soluble support material instead
265x265x300 mm building volume is suitable for most applications
Wi-Fi, USB and Ethernet for reliable connectivity
Power failure protection via capacitor for continuous 3D printing
Automatic calibration of the construction platform thanks to built-in capacitive distance sensor
Additional features of the Zortrax M300 Dual:
This 3D printer uses the Zortrax LPD Plus Dual Extrusion technology
Compatible with various build platforms (perforated, glass & other construction platforms)
3D print with one or both extruders filament & support material
Work with third-party filaments
Built-in camera for remote monitoring
Large construction volume for 3D printing of powerful components
Thanks to the large construction volume of 265x265x300 mm, you can create 3D prints of large components easily and in high quality. 3D print even your large masterpieces in one piece.
LPD Plus technology with 2 extruders
The LPD Plus technology works with two nozzles and a double hot end. 3D print complex parts and objects with undercuts without a hard-to-remove support structure. On one extruder you 3D print with your main material and on the other with water-soluble support material.
Intelligent backup system in the event of power outages
Your Zortrax M300 Dual is smart. It detects a power outage. Its control software pauses your 3D printing and remembers the exact position of the extruder. When the power returns, the Zortrax M300 resumes your 3D printing at the same location. This feature eliminates the need for false 3D printing. Save your filament, your time and your nerves.
Capacitive sensor
The built-in capacitive sensor measures the distance between extruder and construction platform. Always 3D-print with the optimal distance, independent of the used building platform. This makes calibration simple and automated.
Advanced filament control
The Zortrax M300 Dual automatically interrupts 3D printing when filament stops or oozing or clogging occurs.
3D print with external materials
Third-party filaments wound on standard spools are fully supported in both single and dual extrusion modes.
Buy the Zortrax M300 Dual now and get a desktop 3D printer with large build volume, dual extruder and high accuracy.
Smart and efficient
large-volume 3D printing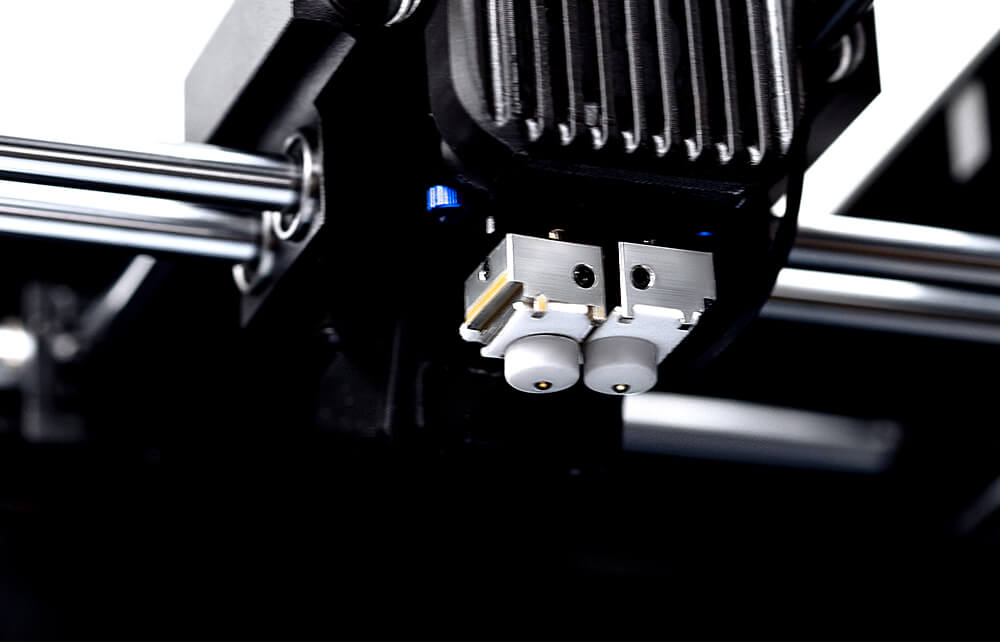 The LPD Plus technology
designed for BIG industrial
-grade results.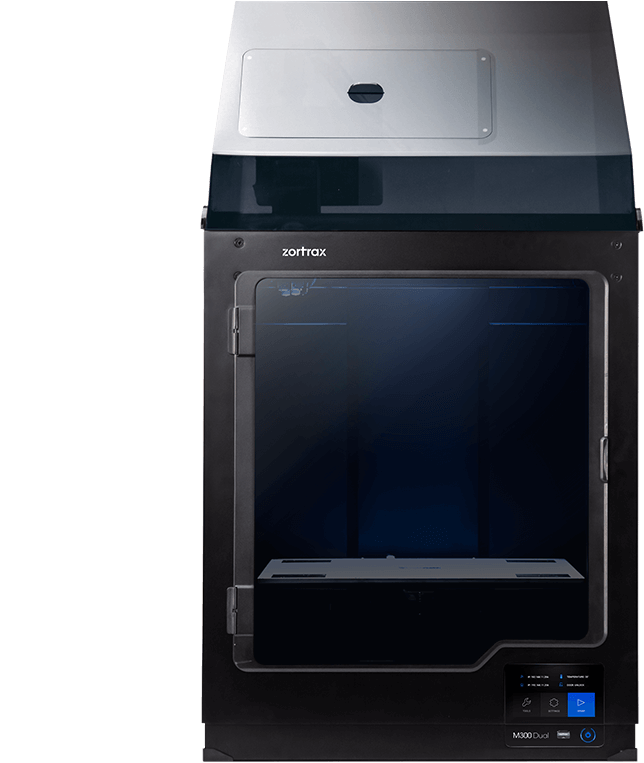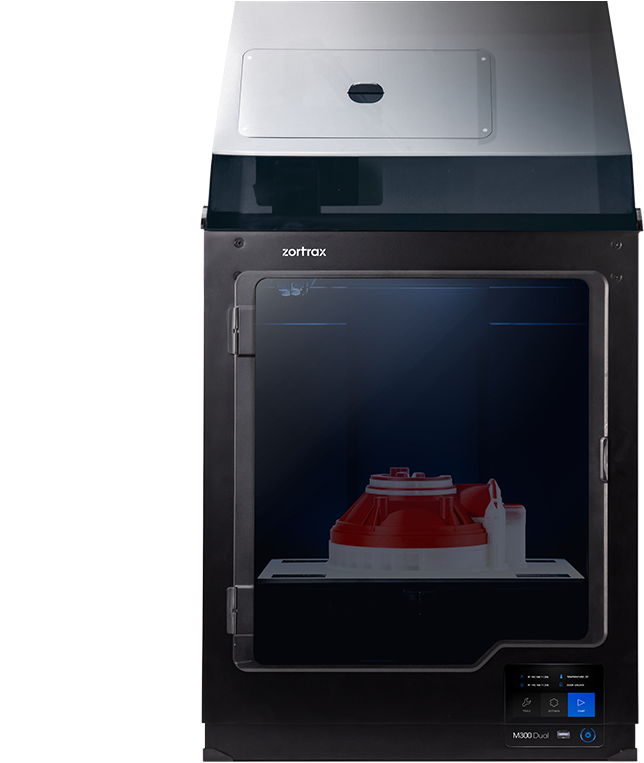 Print as you want
Various types of build platforms and a wide range of third-party filaments are fully supported. Not being limited to a single supplier allows choosing the setup perfectly tailored to the task at hand.
Minimizing human error
The M300 Dual is an efficient time-saving device fitted with advanced sensors to oversee the 3D printing process from start to finish with almost no supervision required.
No more failed prints
The printer can reduce time lost due to power outages and various kinds of mechanical failures. In such cases the print is automatically paused and can be resumed right after the issue has been dealt with.
Large format models made with
a desktop-sized 3D printer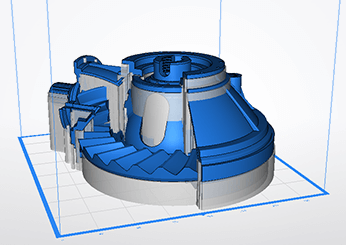 Step 1 Design
You can design models in all types of CAD software that support exporting files to .stl and .obj format or simply download them from the many online libraries.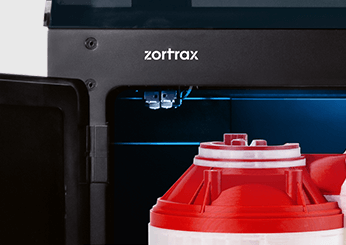 Step 2 Print
Z-SUITE can send an already pre-processed model to one or more of your printers over Wi-Fi or Ethernet network.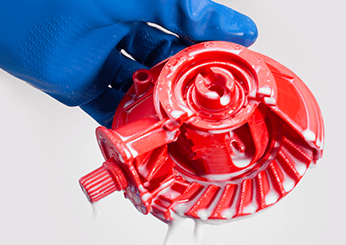 Step 3 Remove supports
Water-soluble support filaments can be easily removed by rinsing. A dedicated Z-SUPPORT Premium dissolves quickly and leaves no remnants on the model.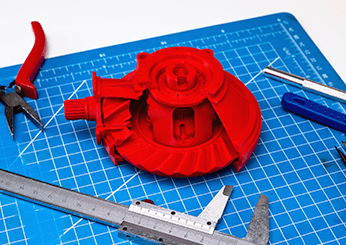 Step 4 Go forward
Once the supports are removed, the model can work as a functional prototype or an end-use part in various industries.
Scaling up to 3D printing farms
The Zortrax M300 Dual's wireless connectivity enables you to build a large cluster of remotely controlled 3D printers. Besides Wi-Fi, multiple M300 Dual 3D printers can also be networked through Ethernet or USB ports.

Main features of Z-SUITE 2
for dual-extrusion technology
Z-SUITE is a dedicated slicing application that also works as a wireless command center of smart, reliable Zortrax 3D printers with Wi-Fi capability. It has a variety of functionalities enhancing the experience of using Zortrax M300 Dual.
Specification for Zortrax M300 Dual
Build volume
265 x 265 x 300 mm (10.4 x 10.4 x 11.8 in)
Nozzle diameter
0.4 mm (0.016 in)
Extruder
Dual material extruder with material jam detection
Extruder cooling system
Two fans cooling the extruder; radial fan cooling the print
Hotend
Dual material hotend
Platform
Heated; Perforated/Glass
Material Endstop
2 x Mechanical
Connectivity
Wi-Fi, Ethernet, USB
Touchscreen
4″ IPS 800×480
AC input
110 V ~ 5,9 A 50/60 Hz ; 240 V ~ 2,5 A 50/60 Hz
Maximum power consumption
400 W
Supported file types
.stl, .obj, .dxf, .3mf
Supported operating systems
Mac OS X / Windows 7 and newer versions
3D Printer, Side Covers, Z-SUITE, Starter Kit, 1 spools of model material, 1 spool of support material, 2 spoolholders, Material Box, 1 perforated platform, 1 glass platform
Technology
LPD Plus (Layer Plastic Deposition Plus) – advanced technology with the system of Dissolvable Support Structures
Layer resolution
100 – 300 microns (for 0.4 mm 0.016 in nozzle)
Minimal wall thickness
400 microns (for 0.4 mm 0.016 in nozzle)
Platform leveling
Automatic measurement of platform points height / manual measurement of platform points height
Maximum printing temperature (extruder)
310° C (590° F)
Maximum platform temperature
105° C (221° F)
Ambient operation temperature
20 – 30° C (68- 86° F)
Storage temperature
0 – 35° C (32- 95° F)
Dedicated for single extrusion
Z-NYLON, Z-ULTRAT, Z-PETG, Z-GLASS, Z-PLA
Dedicated for dual extrusion
Z-PETG, Z-PLA, Z-ULTRAT PLUS, Z-SUPPORT PREMIUM
External filaments
Applicable
Support
Mechanically removed – printed with the same material as the model / Dissolvable – printed with a different material than the model
Filament diameter
1.75 mm (0.069 in)
Zortrax M300 Dual Main Features
Works in the LPD Plus dual-extrusion technology
Has a 265x265x300 mm workspace
Has Wi-Fi, USB, and Ethernet connectivity
Has a blackout response system
Calibrates a build-platform with a capacitive displacement sensor
Compatible with various build platforms
Supports single and dual extrusion modes
Works with third-party filaments